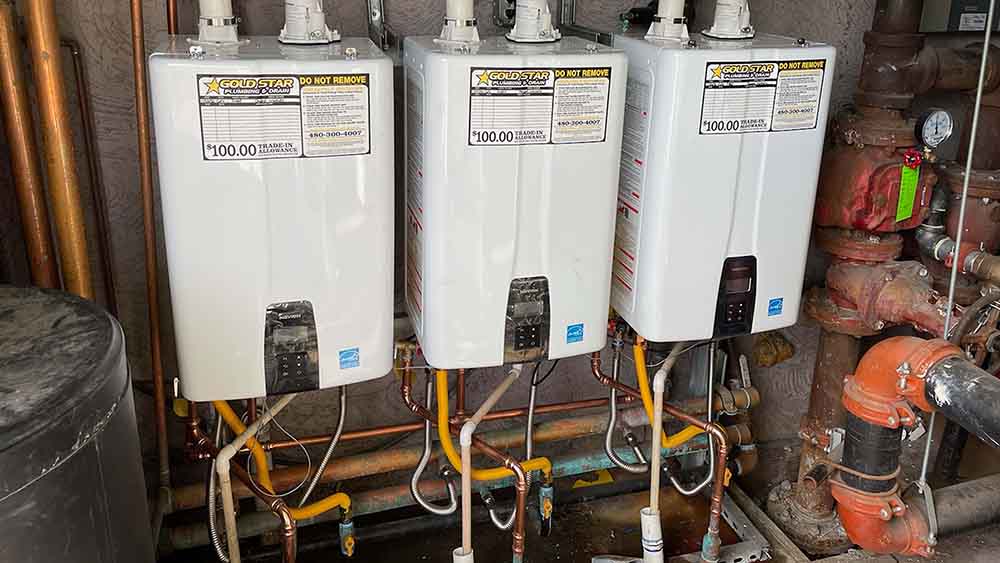 Tankless water heaters, also known as instantaneous or on-demand water heaters, are an alternative to standard-type water heaters. Gold Star Plumbing & Drain are experts in water heater replacement and can help you make the shift from the traditional water heater to tankless water heaters.
If you're wondering whether a tankless water heater replacement is a good investment, here are a few considerations that might help you make the leap.
What Is a Tankless Water Heater?
Tankless water heater provides hot water only when it is needed for use. As the name suggests, on-demand water heaters only provide hot water whenever it is required. So it doesn't use up that much power when not in use. This makes these types of water heaters more energy-efficient compared to their conventional counterparts. Moreover, you can easily call us for water heater repair in Gilbert, AZ if your water heater is on the fritz.
Benefits of Tankless Water Heater
So, is going for a tankless water heater worth the investment? The simple answer is yes. With the surge in energy costs, it is vital to look for ways to minimize monthly/annual electric or gas bills. Despite using high-powered gas burners or electric coils, these tanks are more energy-efficient than the standard water heater.
Secondly, once the tap for cold water is switched on, an instant hot water begins flowing through them. The water doesn't get cold even if the faucet remains open. Additionally, the frequency of these tankless water heater repair services are quite minimal.
Tankless water heater installation process is seamless as they are not as bulky as the traditional heating unit. It is possible to affix one in the kitchen without interfering with the interior décor. And since tankless water heaters aren't as bulky, they are an ideal space-saving solution for smaller homes.
If you're considering installing a tankless water heater, contact us so you can discuss your options with our water heating experts.