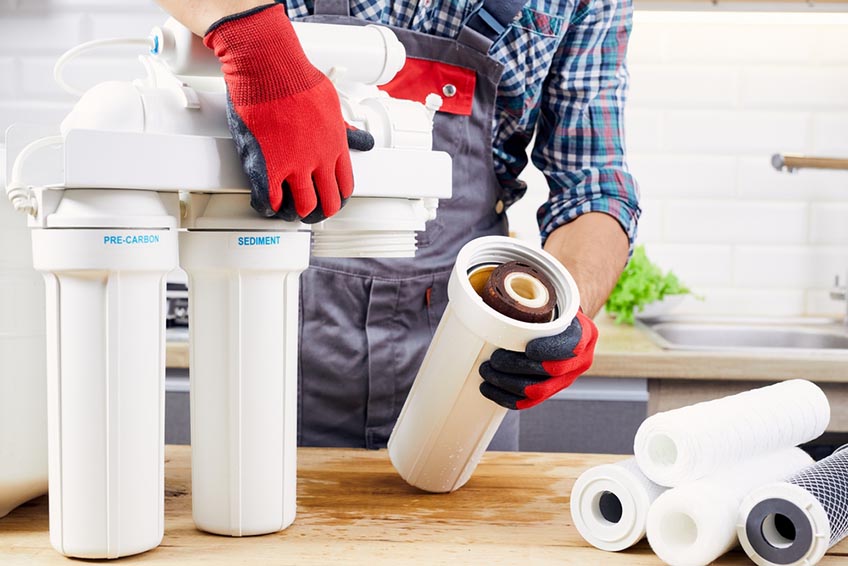 Reverse osmosis is a water purification process. A synthetic lining is used to filter out unwanted molecules and large particles, such as contaminants and sediments like chlorine, salt, and dirt from the drinking water. It is regarded as the most effective water filtration system.
Golden Star Plumbing & Drain offers topnotch water treatment services in Tempe, AZ. One of the water treatment options that we offer is the reverse osmosis system. Here are the basics.
How It Works
The reverse osmosis water filtration system works by utilizing water pressure that pushes the tap water through a semipermeable membrane to remove the contaminants. Dissolved inorganic solids are removed from the water through osmosis. The water is pushed through a series of filters and ends up in a storage tank while the contaminants are drained.
The reverse osmosis (RO) system also acts as a water softener.
Basic Components of a Reverse Osmosis System
Cold water line valve – This valve is fitted onto the cold water supply pipe. It has a tube attached to the inlet side of the RO pre-filter.
Pre-filter – Water from the cold water supply enters this section, mostly sediment and carbon filters.
Reverse osmosis membrane – The main component of this water purification system is designed to remove contaminants. It is right before the storage tanks where water heads after osmosis.
Post-filter – A carbon filter that receives water from the storage tanks.
Automatic shut-off valve – As a water conservation measure, the reverse osmosis system has an automatic shut-off valve which closes when the storage tank is full to prevent excess water from entering the RO membrane and blocking flow to the drain.
Check valve – located in the outlet end of the RO membrane. It prevents the backward flow of treated water from the storage tank.
Flow restrictor – Regulates water flowing through the RO membrane.
Storage tank – Most RO storage tanks hold between 2 to 4 gallons of the treated water.
Faucet – The RO system includes a faucet installed at the kitchen sink.
Drain line– This tubing disposes of the wastewater containing the contaminants and impurities filtered.
If you are looking for a water purification system, a reverse osmosis water filtration system is one of the best options. Contact us today to set up an appointment.