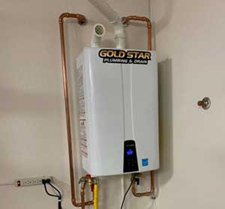 In our modernized lives, it's easy to overlook the small luxury of being able to simply turn a handle and have hot water available. But when trouble arises with the water heater, you quickly become aware of how valuable that hot water is. It's certainly no fun to wake up in the morning, turn on the shower, and get a stream of ice cold water that won't warm up. When you first notice a sign of a water heater problem, you'll want to have an experienced plumber come over and do an inspection. Here's a look at five signs of water heater trouble.
Murky Water
As an old water heater begins its descent toward dilapidation, metal could flake off and settle in the tank. This could then make your tap water appear murky. In such a scenario, you'll want to have a plumber complete a draining and flushing of your water heater.
Corrosion
If the tank's metal has rusted through, then you're probably going to need a new water heater. In this situation, rust-colored water is liable to come out of your faucet. You should also keep an eye out for rust on the burner components of your water heater.
Accumulation of Moisture
One classic sign of a water heater leak is that moisture has been building up around it. You'll want to quickly address this issue so that the leaking doesn't worsen to the extent that the surrounding area suffers water damage.
Inconsistently Heats Water
If your shower or sink water just won't consistently keep warm, then it'll be best to have a plumber conduct an inspection to pinpoint the underlying issue.
Old Age
In most cases, conventional water heaters will continue to function efficiently for ten to fifteen years. At that point, you'll want to start considering replacement, preferably with a modern, energy-efficient model.
If you need water heater repair or replacement, be sure to get in touch with a reputable specialist. For water heater repair in Gilbert, Mesa, Chandler, Scottsdale, Glendale, and Phoenix, AZ, contact the experts at Gold Star Plumbing & Drain at (480) 573-1888. Feel free to call Gold Star Plumbing for any of your residential plumbing needs. Gold Star Plumbing also offers expert commercial plumbing services in Gilbert, AZ. And Gold Star is your 24/7 emergency plumber in Gilbert & Phoenix!