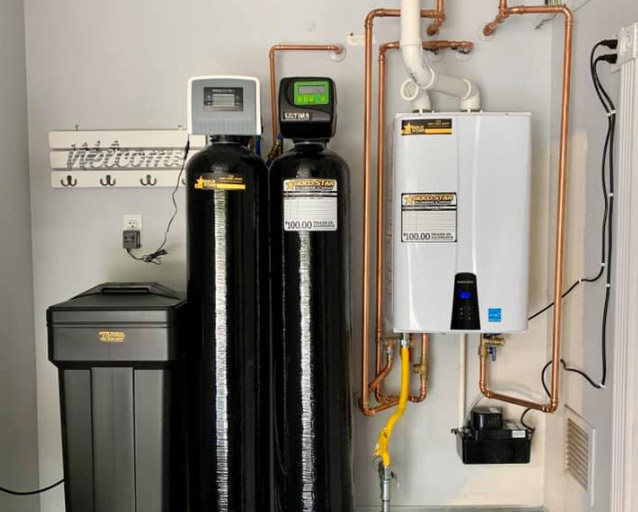 Do you need to replace your water heater? Lower energy expenses, an unending supply of hot water, a longer service life, a space-saving design, and easier maintenance are just a few of the benefits of a tankless unit.
From Goldstar Plumbing & Drain, the leading name in water heater repair in Chandler, AZ, here are some more benefits you can reap from a tankless water system.
Lower Energy Costs
Scheduling a water heater replacement to switch to a tankless water heater can help you trim your energy bills. According to the US Department of Energy, residences that consume 41 gallons or less of water per day can save up to 24-34 energy with a tankless water heater compared to traditional tank water heaters.
Unlimited Hot Water Supply
Traditional water heaters store a finite supply of hot water in a storage tank for when it's needed. On the other hand, a tankless system heats water on demand, allowing an indefinite hot water supply throughout the day.
Easy Maintenance
While all types of water heaters require some level of maintenance. Tankless heaters need little to no attention after the initial water heater installation. On top of that, recommended actions such as filter cleaning and system flushing are straightforward for homeowners.
Space-Saving
Opting for a tankless water heater replacement can save you indoor floor space that would otherwise be needed for a large tanked heater. You can even hang smaller models in closets or cupboards.
Longevity
A tankless water heater also saves you money in the long term because it lasts longer and requires fewer tankless water heater repair procedures. A tankless water heater's average service life is 15-20 years, whereas a tank water heater's average service life is only 10-12 years.
Less Risk of Water Damage
When an old tank water heater breaks down, it frequently leaks water, causing damage to your home and personal belongings. Tankless water heaters are less prone to leak because they don't store water.
At Gold Star Plumbing & Drain, we have a combined experience of 25 years of industry. And with the most up-to-date plumbing technologies, we get to deliver a wide range of services. Contact us today so we can install your new tankless water heater!