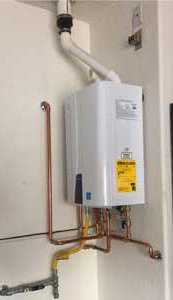 Is a Tankless Water Heater Right For You?
Because of the many benefits, it's no surprise that an increasing number of homeowners are installing tankless water heaters in place of conventional systems. Although tankless water heater systems do cost more during the installation process, they will save you money in the long run by making your hot water usage more efficient. Here's a look at five benefits of choosing a tankless water heater.
Unlimited Hot Water
Because conventional systems heat up a finite amount of water at a time, you can end up in the cold when trying to take a nice long shower. But with a tankless system, you'll get hot water on-demand and won't ever have to worry about running out.
Reduce Energy Bill
With a tankless water heater, you can conserve 25% more energy than with a conventional water heater, which will save you money on your utility expenses.
Longer Lifespan
Tankless water heaters need to be replaced with far less regularity. Depending on the system that you choose, it can potentially continue to work great for ten years longer than a conventional model.
Energy Efficiency
Conventional models will heat up water whether or not you actually need it. Tankless systems, however, will only heat up water when you want it.
Lower Maintenance Costs
While conventional models typically need annual maintenance, your tankless water heater likely won't need to be serviced for several years.
If you're interested in tankless water heater installation, be sure to get in touch with a reputable specialist. For tankless water heater installation in Gilbert, Mesa, Chandler, Scottsdale, Glendale, and Phoenix, AZ, the experts to contact are at Gold Star Plumbing & Drain at (480) 573-1888. Feel free to call Gold Star Plumbing for any of your residential plumbing needs. Gold Star Plumbing also offers expert commercial plumbing services in Gilbert, AZ. And Gold Star is your 24-hour emergency plumber in Gilbert & Phoenix!