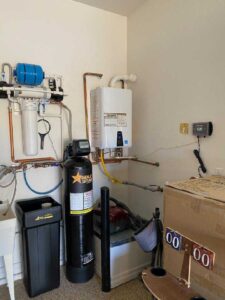 Tankless water heaters have been steadily gaining popularity because they are an energy-efficient and environmentally friendly option. While it provides many advantages, tankless water heaters are not a one-size-fits-all solution – each household has different hot water needs and requirements. As such, what might work for others might not be suitable for you.
If you were wondering whether a tankless water heater replacement can be beneficial for a small household like yours, here are a few key points to help you decide.
You'll Have More Control Over Your Heating
Tankless heaters offer much more control over your heating, especially if you live in a small house or apartment. When you choose a tankless heater unit for your water heater installation, you can heat water to a specific temperature and then shut it off, so you can have your shower at the perfect temperature every time. And since there are only a few members of the household, customizing water temperatures will not be a problem, water usage efficiency-wise.
They Save Energy
Opting for a tankless water heater replacement means you'll use less energy. This saves you money on your energy bills and helps to reduce your carbon footprint. If you have a limited budget for heating-related expenses, a tankless water heater can be a suitable option for your household.
They Are Low Maintenance
Getting water heater repair in Gilbert, AZ should be pretty easy, especially since Gold Star Plumbing & Drain caters to the area. In general, as long as your tankless water heater is kept in good condition via maintenance that entails periodical flushing and wiring connection inspections, then issues are less likely to occur.
When you do end up needing tankless water heater repair, make sure to work with a professional plumber. Whether you run a large household or are part of a smaller family, our team can help you pick out the right water heater for you.
Contact Gold Star Plumbing & Drain today to schedule an appointment.