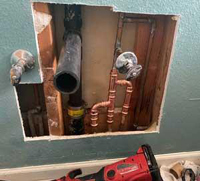 Toilet repair can be incredibly frustrating, especially if you only have one bathroom in your home. If you can't quickly resolve the problem, you'll want to call in a reputable plumber who can promptly get your bathroom back to normal. Here's a look at six common signs of a failing toilet.
Crack in Tank or Bowl
Cracks that are smaller than 1/16th of an inch can often be fixed with plumber's epoxy. But if the crack is larger, then replacement could be necessary.
Tank or Bowl Won't Refill
A faulty fill valve can prevent the tank or bowl from properly refilling. Typically, this calls for valve replacement.
Continues to Run
If your toilet won't stop running, the flapper valve may need adjustment. But if that doesn't do the trick, then flapper replacement could be necessary.
Water at Toilet's Base
This suggests that water is leaking at the seal. Sometimes, this type of leak can be addressed by tightening the bolts that secure the toilet to the floor. If that doesn't work, you may need a new wax ring to fully seal the connection between toilet and drain pipe.
Rust/Corrosion
When rust is only in a small area of the toilet, then you can probably just replace the relevant part. But if rust has broadly set in, then toilet replacement could be the best course of action.
Flushes Very Little
When the toilet is only flushing a little bit, there's a good chance that the flushing mechanism needs repair.
If you need toilet repair, be sure to get in touch with a reputable plumber. For toilet repair in Gilbert, Mesa, Chandler, Scottsdale, Glendale, and Phoenix, AZ, the experts to contact are at Gold Star Plumbing & Drain at (480) 573-1888. Feel free to call Gold Star Plumbing for any of your residential plumbing needs. Gold Star is your 24/7 emergency plumber in Gilbert & Phoenix!