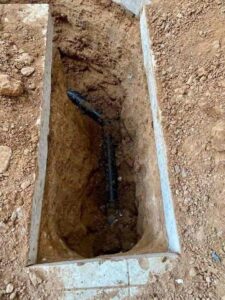 Your sewer system is one of the most essential parts of your home or business, responsible for carrying away waste and keeping your property clean and safe. Like any other system, it needs regular maintenance and attention to keep working properly. But in due time, your sewer line will need to be replaced. This should be done sooner rather than later, as delaying this process can lead to serious problems.
The expert team at Gold Star Plumbing & Drain shares some of the most common issues that arise when sewer replacement is put off:
Sewage Backups and Leaks
Sewer repair is no waiting game. When a sewer line fails, it can cause sewage to leak out and back up into sinks, tubs, and toilets. On top of the unsightly and disgusting mess, this can also cause a great deal of damage to your home, including water damage and an increased risk of mold growth. Prompt and immediate replacement is essential for protecting your home and health.
Blockages & Clogs
Even if you're not dealing with a sewage backup, an old and worn sewer line is more prone to developing blockages and clogs. These can happen anytime, leading to unpleasant odors, slow drainage, or even having your entire plumbing system shut down due to the blockage. While you might be under the impression that simple drain cleaning in Gilbert, AZ can solve the problem, this is rarely the case when it comes to an outdated sewer line.
Water Contamination
Sewer line failure can contaminate drinking water and make it unsafe for consumption. This is because wastewater and other substances may end up in the water supply, leading to dangerous bacteria levels. To minimize the risk of this happening, it's best to have your sewer line replaced as soon as possible.
Expensive Repairs
Delaying sewer and drain replacement can also lead to more costly repairs. With time, the problem can worsen and spread to other parts of the system, resulting in even more damage. You'll end up paying a lot more than you would have if you had just taken care of it immediately.
Turn to Gold Star Plumbing & Drain all sewer-related needs. From simple drain repair to the most complex sewer line replacements, our experienced team is here to help. Contact us today for more information!