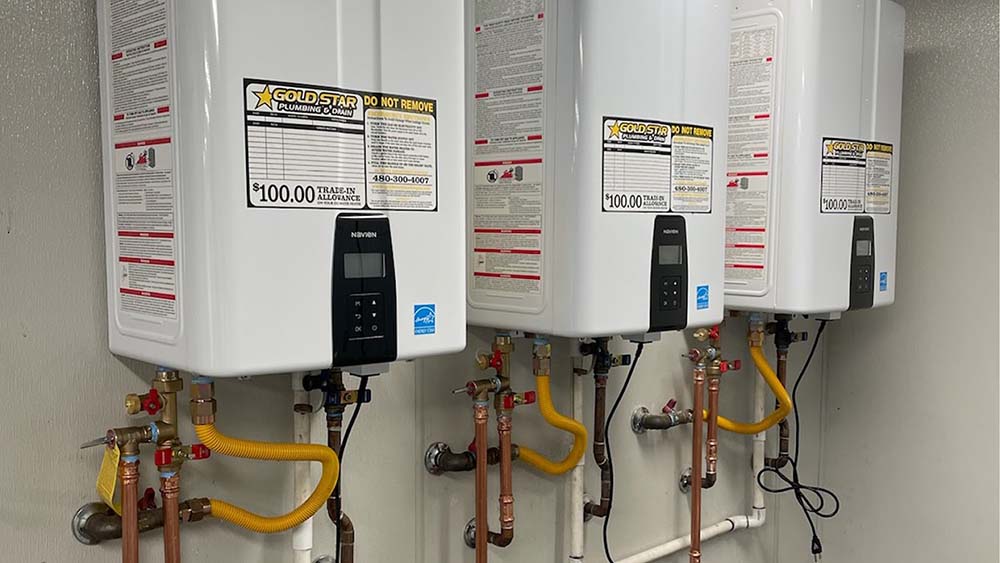 Gold Star Plumbing & Drain is a leading provider of plumbing services specializing in tankless water heater repair in Tempe, AZ. Tankless water heaters are a convenient and efficient way to provide hot water in homes and businesses, but they can develop issues that require repairs.
Here are a few issues to keep an eye out for that might warrant tankless water heater repair services.
1. Reduced or No Hot Water Flow
This is a common issue with tankless water heaters that happens due to various reasons, such as clogs in the pipes or faulty heating elements, can cause. This issue can lead to a decrease in the water heater's efficiency and can even cause damage to the unit over time. If this issue persists, it may be a sign for tankless water heater replacement. Contacting a professional plumber can help determine the best action to address this issue.
2. Overheating
The unit will shut down if the water temperature exceeds the maximum limit. This can happen due to a faulty thermostat or high mineral buildup in the heat exchanger. If left unrepaired, overheating can cause significant damage to the unit and potentially lead to untimely water heater replacement. It's important to have a professional plumber inspect and repair the issue as soon as possible to avoid costly damage and ensure the longevity of your tankless water heater.
3. Ignition Failure
Ignition failure can occur for various reasons, such as a gas supply interruption, a dirty burner, or a faulty ignition system. It is important to address ignition problems to prevent further water heater damage promptly. The issue may be related to incorrect water heater installation, such as an improperly installed gas line or vent.
If you are experiencing issues with your tankless water heater, it is important to address them promptly to avoid more extensive repairs in the future. Gold Star Plumbing & Drain specializes in water heater services and can diagnose and fix any problems with your tankless water heater.
Contact us for expert repairs and reliable service.