We Specialize in Water Treatment Services in Chandler, AZ
All you need to do to enjoy the many benefits of cleaner, healthier, and less corrosive water is to contact a plumber in Chandler, AZ, from Gold Star Plumbing & Drain. Be sure to ask about our full range of water treatment services. We offer affordable, top-quality solutions ideal for different needs, budgets, and preferences.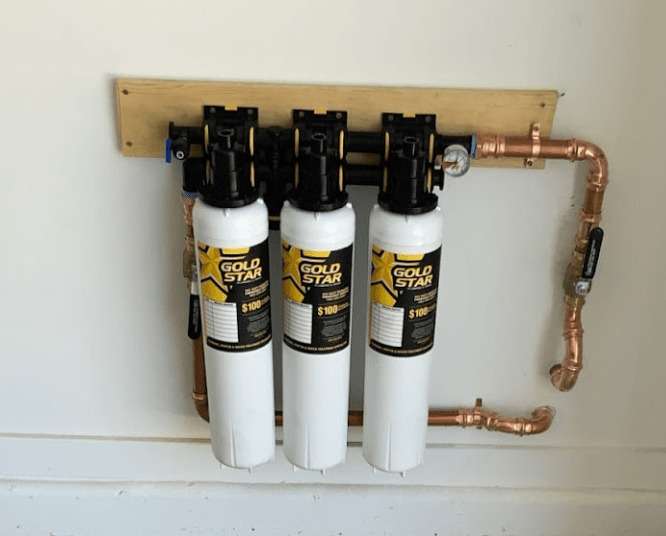 As we're a local company, we know what matters most to the clients in our service areas. This is why you can count on water treatment options to be set up properly and in line with your needs and budget. Our water treatment services include initial consultations along with water filtration system installation, repair, and, when necessary, replacement.
What Is Water Treatment?
Even though water coming into many homes today is filtered at a municipal source doesn't mean it's always free of excess minerals or unwanted impurities. Water treatment refers to any additional steps taken to improve the overall quality of water used throughout your home. Water treatment can involve a basic water softener for a single faucet or systems that provide more comprehensive filtering.
Types of Water Treatment
A simple yet effective water purification system is one that's set up on a countertop near a sink or one that's placed under the counter. These water treatment systems, while more basic in nature, still provide cleaner drinking and cooking water; and they can give you water with an improved taste while also reducing unpleasant odors.
An under-counter water filtration system can be portable or permanently fixed. Activated carbon is useful for many filtration systems to remove various pollutants and chlorine. However, some systems may use UV light or a process known as ion exchange, which removes unwanted particles by changing how chemicals bind. Some systems also use both the UV light and ion exchange process, both of which remove mercury, lead, and other heavy minerals that can affect water quality.
A reverse osmosis system, on the other hand, is connected to a supply source and capable of filtering larger quantities of water. These systems use pressure to move water through specially designed membranes to remove larger particles, minerals, and other contaminants. The result is water that's healthier and safer for many daily household uses.
Count on the Water Treatment Experts
We're a family-owned business fully immersed in and committed to the communities we serve in Chandler and surrounding areas.
We pride ourselves on offering solutions with long-term value for the communities we serve, as we ensure:
Improve Your Water Today
Get an affordable boost in the quality of your home's water with water treatment services in Chandler, AZ, from Gold Star Plumbing & Drain. If you're not sure what's appropriate for your needs, one of our technicians will provide an honest opinion so you can make a wise investment and smart choice. Contact us today to benefit from our full range of water treatment services.